We are grateful to Ashurst for sponsoring our forage-creation programmme.

Please contact us if you'd like to find out how you can support our education, training and forage-creation projects.
Planting window box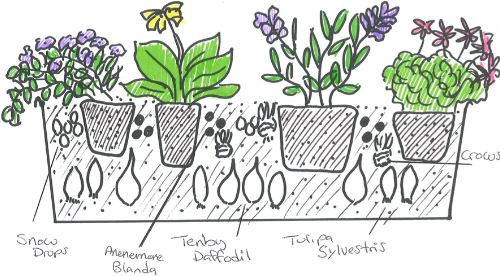 By Mark Patterson BSc
Last year I planted up my window boxes at home with bees and other pollinators in mind. They were such a buzzing success I've decided to share with you all how to make the perfect for pollinators window box for spring and early summer. I live in a 2nd floor apartment facing south east so my boxes receive the morning sun and lots of insects visiting all through the morning.
The key is to choose plants with simple flowers that are attractive to insects and provide pollen and nectar. The other important bit is to layer your box with plants that will flower one after another providing a long succession of flowers.
Here I have used spring bulbs of the simple species types Tulipa sylvetris, Pseudo Narcissi lobularis (Tenby Daffodil), crocus mix, Anenemone blanda and single snow drops. These are planted at various depths according to their preference. The Snow drops and Crocus will be the first to emerge and flower in February followed by the species daffodils and Tulips in March and they are then succeeded by the Anenemones which flower March to late April.
Above the bulbs I am planting a mixture of Cowslips (Primula veris), Forget-me-nots (Myosotis), Campanula carpatica, Thymes, Saxifrage, Thrift America maritima, Aubrietia, alpine dianthus (pinks) Antirrhinum and wallflower (Erysimum). For the wall flowers I recommend the alpine types or for larger window boxes go for "Bowles' Mauve" or "Orange bedder" both are very long flowering and attractive to spring pollinators.
Water regularly to keep your boxes from drying out and you'll provide forage from February through to mid summer. Once they start to look tatty, cut down seed heads and push nasturtium seeds into the compost to add colour until first frosts.